Cavewoman: Dinner ready.
Caveman: What havin'?
Cavewoman: Caught water animals, gathered berries and fungus.
Caveman: Water animal again? (grumbles and storms out of cave.)
Cavewoman: (shrugs) More for me.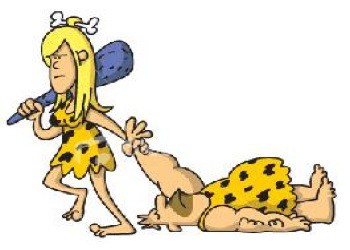 [There have always been consequences to criticizing the chef...just ask our ancestors!]
After reading about the Paleo diet I wondered if our pre-agricultural ancestors ever bored of their food options, and this is what I imagined common dinner conversation was like during the paleolithic era after reading about another, the Primal diet.
Keep reading to find out of the Primal Diet actually helps weight loss.
Primal Diet Basics
The primal diet is an eating program based on the book "The Primal Blueprint," written by Mark Sisson. The primal diet promotes eating only foods that were available to our ancestors prior to the neolithic era. The basic premise behind the primal diet is that a 'hunter and gatherer' diet has nourished humans for much of their evolution, during most of which humans were not overweight and suffering from a myriad of health problems.
Right off the bat, there's a serious problem with this logic, considering the body composition in the neolithic area was much more likely a result of HOW MUCH food they had available and living a very active (see: hunting, surviving) lifestyle and not food selection.
But I digress…
Primal Diet Foods
One of the most important aspects to any diet program are the foods promoted for consumption, and the primal diet promotes mostly whole foods that have not be processed. Foods that primal dieters may consume include proteins like pork, poultry, bison, beef, wild game, fish and shellfish. Vegetables are pretty much allowed in unlimited portions, particularly if they have been grown organically. Fruits are allowed in the primal diet, but only a moderate consumption is recommended and only for those fruits with the best nutritional value like berries.
[The primal diet promise: very few carbs and plenty of protein will work for weight loss...this time!]
Other proteins allowed by the primal diet includes eggs (obviously they weren't concerned about cholesterol!) and most nuts like almonds, cashews and pecans, but peanuts are prohibited because they aren't "tree nuts" as prescribed by the primal diet. Seeds like sunflower and pumpkin may be consumed as well, but not if they have been roasted in any oil other than those found within the seed.
Prohibited Foods
The primal diet does not allow consumption of any vegetable oils, grains, beans, sugars or processed foods of any kind. These foods have all come after the paleolithic age, when humans began experimenting with agriculture and animal husbandry.
Primal dieters argue that while grains and legumes may have nutritional value, they also contribute to other health problems like autoimmune diseases. Carbs are not completely forbidden, but on a primal diet should be reduced greatly and only derived from fruits and vegetables.
What's Good About the Primal Diet
The primal diet is good because it encourages a greater consumption of fruits and vegetables, which are packed with vitamins and nutrients and water. Decreasing how many carbohydrates you consume is a good idea for anyone trying to lose weight, as is getting carbs from healthier food sources. A diet consisting of lean proteins and vegetables is a good start to any weight loss plan.
Concerned about carbs? No-carb recipes found here!
Another aspect of the primal diet that's good is the focus on free range and organic products. It is a good idea to eat organic whenever it's possible, but especially with meat products. Industrial agriculture has lead to an increased amount of hormones, antibiotics and chemicals in meat, which could also be responsible for the health problems that primal diet proponents warn about.
What's Bad About the Primal Diet
Although the Primal Diet does not overtly advocate eating raw meat to aid weight loss, it is mentioned as an optional part of the diet. Because there is only anecdotal evidence that eating a raw meat diet is beneficial, or that it aids with weight loss, we advise against it. Many illnesses can be contracted by eating undercooked or raw meat, so if you're considering this as part of your primal diet follow the instructions suggested by Mark Sisson here.
[The primal diet promises "boundless energy" with minimal carb intake...do you buy it?]
The other problem I have with the primal diet is that there is not a heavy focus on using regular exercise for weight loss. This is most odd when you consider that a great portion of our paleolithic ancestors' healthfulness comes from the fact that most days were spent hunting and gathering supplies for survival. Mark Sisson does recommend increased physical activity and even a few paleo-inspired exercises, but maintains that most weight loss occurs due to diet.
Primal Diet for Weight Loss?
The primal diet will work for weight loss, if you are under your calorie consumption for the day, just like with any diet. But restricting your diet to more boring, more expensive foods could wreak havoc on the rest of the life, setting you up for the yo-yo effect.
By decreasing your intake of carbohydrates and focusing more on lean proteins and vegetables, you will very likely create the calorie deficit needed for weight loss. However without regular exercise your weight loss will be a very long process with mediocre results.
It's not a bad idea to eat more organic foods or to reduce the amount of carbs you consume. However if you cannot afford organic foods then a diet filled with pork and beef probably isn't a good idea as these meats often have the most chemicals in them.
If you're struggling with weight loss you can take a few pointers from the primal diet, however adopting the primal diet for everyday use is not recommended as we already have plenty of low-carb diets out there.
If the idea of another low carb diet makes you want to stop eating altogether, read our review of Eat Stop Eat and turn that fast into a healthy way to shed a few pounds!