Whether you're in the hospital recovering from surgery or simply in need of a fruit-flavored treat, none is more loved than jello. Available in a wide variety of flavors, the jiggly colorful treat is enjoyed by kids and adults alike.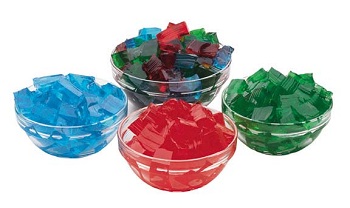 Contrary to what many of us believe—myself included—there are very few calories in jello. Before you pile your shopping cart high with boxes of jello, keep reading to find out jello nutrition facts.
Major Nutrients Found In Jello
As you can see there aren't many nutrients found in Jello aside from sodium and protein, and there's very little of that found in one serving. Because jello is made with simple ingredients; food coloring, water, gelatin, sugar and artificial flavors, there's very little to add calories, fat or cholesterol.
With just 15 calories per serving, many consider jello a low calorie treat. Although with all things, you should eat jello in moderation.
Selecting/Storing
Because you have to do the hard work, making the jello, the only choice to be made is which of the many flavors you'll choose. Whether you choose a popular brand or generic, the only consideration when choosing should be how easy it is to make. Many brands make sugar free jello as well, but as you can see from jello nutrition facts, it already has little to no sugar.
Store jello in the refrigerator until solid and then keep cool until ready to serve.
Eat It With:
Since jello is a snack food it is best enjoyed with a drink like water. However, jello molds can be made with canned fruit or whipped cream, just remember that they add calories you don't need. Keep the calories low by adding fresh fruit, but with just 15 calories per serving, its best to enjoy jello as it is.
There is one other jello dish that many of us enjoy, the jello shot. However make sure you use a low calorie alcohol because the calories in jello shots will certainly go up!
Burn Off Calories In Jello
To burn off the calories in 1 serving of jello, you would have to do:
2 minutes of ballroom dancing.
1 minute of cross country skiing.
3 minutes of curling.